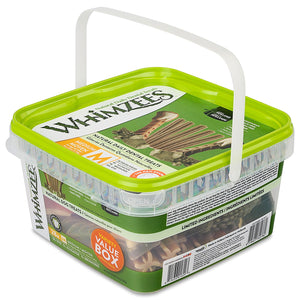 Image may not reflect actual packaging.
Whimzees
Whimzees 28 ct. Variety Pack Tub - Medium (for dogs 25-40 lbs.)
Item PLU:
40950
Add to cart for price!
---
Share this Product
Introducing the Whimzees 28 ct. Variety Pack Tub - Medium, the perfect dental treat for your furry friend! If you have a dog weighing between 25-40 lbs., this assortment of chewy delights is a must-have in your pet pantry. 
Whimzees knows that keeping your dog's teeth clean and their breath fresh can be a challenging task. That's why they have carefully crafted these treats with your dog's dental health in mind. Made with all-natural ingredients, this variety pack offers a delightful mix of dental chews that not only taste great but also promote excellent oral hygiene.
Each tub of Whimzees 28 ct. Variety Pack contains a dynamic assortment of dental treats designed to tackle tartar build-up and plaque. These medium-sized treats are specifically formulated to fit the biting needs of dogs weighing 25-40 lbs., ensuring that every chew works its magic.
So, what's inside this tempting tub? Let's talk about ingredients and flavors! Whimzees takes pride in using only the finest ingredients sourced from reliable suppliers. These dental treats are made with natural vegetable-based ingredients such as potato starch, glycerin, powdered cellulose, and lecithin. Offering your dog a wholesome dental treat has never been easier!
But what truly sets Whimzees apart is their commitment to providing a variety of flavors that will keep your pup excited and engaged. In this 28 ct. Variety Pack Tub, you'll find four different flavors to captivate your dog's taste buds. They will enjoy sinking their teeth into the savory tastes of Alfalfa & Thyme, Carrot & Peas, Rice & Peanut Butter, and Apple & Kale. With so many delectable options, your furry friend will never get bored!
Not only are these dental treats delicious, but they also help address common dental issues. The unique shape and texture of Whimzees dental chews will aid in removing plaque and tartar while stimulating blood flow in the gums. Chewing on these treats will promote healthy teeth and gums, reducing the need for expensive dental procedures later on.
So why wait? Give your dog a treat that they will love and that will keep their dental health in top-notch condition. Purchase the Whimzees 28 ct. Variety Pack Tub - Medium today and ensure your pup's oral hygiene!
The Whimzees 28 ct. Variety Pack Tub - Medium (for dogs 25-40 lbs.) contains a combination of natural vegetable-based ingredients. These ingredients include:
Potato Starch: A quality source of carbohydrates that aids in providing energy and helps bind the treats together.

Glycerin: Derived from vegetable oil, it helps to retain moisture and maintain the chewy texture of the dental treats.

Powdered Cellulose: A plant-based fiber that promotes healthy digestion and aids in removing plaque and tartar from your dog's teeth.

Lecithin: Sourced from plants, lecithin acts as an emulsifier to ensure the smooth texture and consistency of the treats.

Alfalfa & Thyme Flavor: A natural combination of alfalfa and thyme to provide a tasty and aromatic experience for your dog.

Carrot & Peas Flavor: Made with real carrots and peas to provide a flavorful and wholesome chewing experience.

Rice & Peanut Butter Flavor: Blended with rice and peanut butter to create a delightful taste that dogs love.

Apple & Kale Flavor: Infused with the flavors of apple and kale to give your dog a crunchy and satisfying snack.
With these natural ingredients, Whimzees ensures that your dog receives a dental treat that is not only enjoyable but also beneficial for their overall dental health.
Buy Whimzees 28 ct. Variety Pack Tub - Medium (for dogs 25-40 lbs.) from TheHungryPuppy.com with Free* Local NJ Delivery to your front door at better prices than other online retailers. Not only do we carry Whimzees 28 ct. Variety Pack Tub - Medium (for dogs 25-40 lbs.) but find other Great Products, Dog, Cat, Small Animal, Livestock, Farm Animal Food and Supplies.
**************************
For this product and for the best prices on all of your pet food and supply needs The Hungry Puppy Pet Food & Supplies is your one-stop shop. Whether your animal barks or chirps, neighs or moos, meows or squawks, we have it all. Shop at the convenience of your home or on the go. In a rush, you can save 5% by placing a curbside pickup order and we will make sure you are here and gone in a flash. Live in NJ? The Hungry Puppy delivers FREE to your front door every week.

Live outside of our Central NJ Local Delivery area? Don't worry, we now ship right to your front door!

Either Way The Hungry Puppy offers online shopping, with Curbside Pickup, Local Delivery or Nationwide Shipping at a place you can trust for the highest quality pet products at the lowest possible prices!