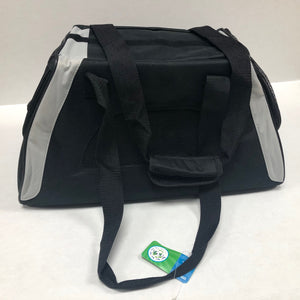 Image may not reflect actual packaging.
B7
United K9 Canvas Carrier
Item PLU:
42396
Regular price
$9.99
Sale price
$24.99
---
Share this Product
Introducing the United K9 Canvas Carrier - the perfect solution for safely and comfortably transporting your furry friend on all your adventures. 
Crafted from high-quality, durable canvas material, this carrier is specifically designed with the well-being of your beloved pet in mind. Its sturdy construction ensures a secure and stable environment for your dog, instilling a sense of calm during travel.
One of the standout features of the United K9 Canvas Carrier is its padded interior. This plush lining provides an extra layer of comfort, ensuring that your pet feels snug and supported throughout the journey. The ample padding also helps to reduce any potential impact or discomfort that may arise from bumps in the road, making it the ultimate travel accessory for your four-legged companion.
With its innovative design, this carrier not only guarantees maximum comfort for your pet, but it also ensures convenience for pet owners. The United K9 Canvas Carrier comes equipped with adjustable straps and a reinforced handle, making it effortlessly portable. Whether you're taking a short trip to the park or embarking on a long-distance journey, our carrier is designed to make transportation a breeze.
Additionally, this carrier includes mesh panels on multiple sides to provide excellent ventilation for your pet. These breathable panels allow for a constant flow of fresh air, ensuring that your dog stays cool and comfortable, even during hot summer days. Furthermore, the mesh windows offer ample visibility for your furry friend, allowing them to take in the sights and sounds of their surroundings.
The United K9 Canvas Carrier also features multiple storage compartments, providing you with convenient space to store essentials such as treats, toys, and even your pet's identification documents. You no longer have to worry about carrying extra bags for their belongings as everything can be easily kept within reach.
In summary, the United K9 Canvas Carrier offers the perfect combination of comfort, durability, and convenience for both you and your pet. Its rugged construction, padded interior, adjustable straps, and multiple storage compartments make it the ultimate choice for pet owners who prioritize the well-being and safety of their furry companions. Don't let travel limits hinder you and your dog's adventures - choose the United K9 Canvas Carrier today!
**************************
For this product and for the best prices on all of your pet food and supply needs The Hungry Puppy Pet Food & Supplies is your one-stop shop. Whether your animal barks or chirps, neighs or moos, meows or squawks, we have it all. Shop at the convenience of your home or on the go. In a rush, you can save 5% by placing a curbside pickup order and we will make sure you are here and gone in a flash. Live in NJ? The Hungry Puppy delivers FREE to your front door every week.

Live outside of our Central NJ Local Delivery area? Don't worry, we now ship right to your front door!

Either Way The Hungry Puppy offers online shopping, with Curbside Pickup, Local Delivery or Nationwide Shipping at a place you can trust for the highest quality pet products at the lowest possible prices!