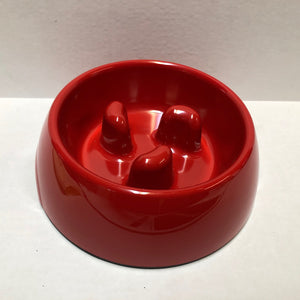 Image may not reflect actual packaging.
B7
Slow Feed Bowl
Item PLU:
42284
Regular price
$6.99
$6.99
---
Share this Product
Introducing the Ultimate Slow Feed Bowl for Your Beloved Pet
Do you ever worry about your furry friend eating too quickly and suffering from digestion issues? We understand how important it is to prioritize their health and well-being. That's why we have developed the revolutionary Slow Feed Bowl – the perfect solution to promote healthier eating habits for your pet.
Our Slow Feed Bowl is meticulously designed to slow down mealtime, preventing your pet from gulping down their food too fast. Its unique features ensure that your furry companion enjoys every bite at a pace that is natural and safe. Say goodbye to worried thoughts about potential choking hazards or the discomfort that stems from eating too fast!
Here's what makes our Slow Feed Bowl the ultimate choice:
Thoughtful Design: Our bowl features specially designed raised obstacles, creating obstacles that encourage your pet to turn and navigate around them while eating. This forces them to take smaller mouthfuls, naturally reducing their eating speed.
Enhanced Digestion: By slowing down the eating process, our Slow Feed Bowl aids in optimal digestion, preventing indigestion, bloating, and stomach discomfort associated with fast eating habits. Your pet will experience fewer tummy troubles, leading to a healthier and happier lifestyle.
Durable and Safe: Crafted with the utmost care and using food-grade materials, our Slow Feed Bowl is BPA-free, non-toxic, and eco-friendly. It ensures the highest standards of safety for your fur baby, making it suitable for daily use and easy to clean.
Versatile Design: Our Slow Feed Bowl is available in different sizes, catering to pets of all breeds and sizes. Whether you have a small dog or a big cat, we have the perfect size to meet your furry friend's needs.
Increased Mental Stimulation: Alongside promoting healthier eating habits, our Slow Feed Bowl also engages your pet's mind. The added challenge of navigating around the obstacles helps keep their brain active, contributing to their overall mental wellbeing.
Invest in the health and happiness of your pet with our Slow Feed Bowl – a game-changer in your household. Don't wait any longer; order now and witness the positive changes it brings to your pet's mealtime experience.
Remember, a healthier digestive system leads to a happier pet. Make the right choice today!
**************************
For this product and for the best prices on all of your pet food and supply needs The Hungry Puppy Pet Food & Supplies is your one-stop shop. Whether your animal barks or chirps, neighs or moos, meows or squawks, we have it all. Shop at the convenience of your home or on the go. In a rush, you can save 5% by placing a curbside pickup order and we will make sure you are here and gone in a flash. Live in NJ? The Hungry Puppy delivers FREE to your front door every week.

Live outside of our Central NJ Local Delivery area? Don't worry, we now ship right to your front door!

Either Way The Hungry Puppy offers online shopping, with Curbside Pickup, Local Delivery or Nationwide Shipping at a place you can trust for the highest quality pet products at the lowest possible prices!