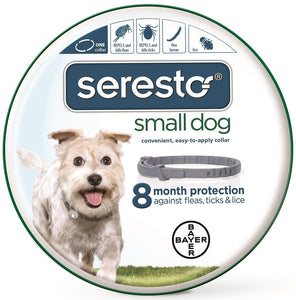 Image may not reflect actual packaging.
Seresto
Seresto Flea & Tick Collar for Small Dogs under 18 lb.
Item PLU:
33117
Regular price
$62.99
$0.00
---
Share this Product
The Seresto Flea & Tick Collar for Small Dogs under 18 lbs is an effective and safe way to protect your dog from fleas and ticks. This collar utilizes an innovative two-layer design that releases controlled doses of powerful active ingredients that last for 8 months, providing your pup with long-term protection. It is also water-resistant and odorless, allowing your pup to remain comfortable and free from irritation. Additionally, it is easy to use and adjustable, meaning it can fit any pup's size and shape. With the 
Seresto Flea & Tick Collar, you can trust that your pup is safe and protected.
Seresto Flea & Tick Collar is safe for small dogs. The Seresto Flea & Tick Collar is designed to provide long-lasting protection against fleas, ticks, and other parasites for dogs of all sizes. The collar releases a continuous, low dose of active ingredients that are distributed over the pet's skin and coat. The ingredients are safe for use on small dogs, and the collar is adjustable, so it can fit comfortably. For optimal protection, the collar should be worn at all times.
The Seresto Flea & Tick Collar for Small Dogs is a great option for preventing fleas and ticks from infesting your pet. It provides continuous 8-month protection from fleas and ticks without the need for monthly applications. The collar is adjustable and water-resistant, and features an odorless, non-greasy design. It also includes a safety release feature, which prevents your pet from becoming entangled in it. The Seresto Flea & Tick Collar for Small Dogs is a great way to keep your pet free of pests and feeling comfortable.
Long-lasting protection: The Seresto Flea & Tick Collar for Small Dogs provides 8 months of continuous flea and tick protection, so you won't have to worry about reapplying monthly. 

Waterproof: The collar is waterproof and remains effective even after swimming or bathing. 

Non-greasy and odorless: The collar is non-greasy, odorless, and easy to use. 

Safe for dogs and puppies: The collar is specifically designed for small dogs and puppies from 8 weeks old and up. 

Repels fleas and ticks: The active ingredients in the collar repel fleas and ticks, and kill existing flea larvae and eggs.
Protection Against Fleas & Ticks For Eight Months With its innovative delivery system, Seresto offers a breakthrough in flea and tick protection for dogs, puppies, cats and kittens for eight months.

Features and benefits:
Available for dogs, puppies, cats and kittens.
Repels and kills fleas, flea larvae and ticks
If a tick is repelled or killed, it can't attach and transmit the organisms that may cause disease
Non-greasy, odorless, easy-to-use
Convenient, easy-to-apply collar

Available sizes:
Seresto Cat --> For cats and kittens 10 weeks of age or older
Seresto Small Dog --> For dogs and puppies 7 weeks of age or older, and up to 18 lbs
Seresto Large Dog --> For dogs and puppies 7 weeks of age or older, and over 18 lbs

Application:
Remove collar from protective bag immediately prior to use.
Unroll collar and make sure that there are no remnants from the plastic connectors inside the collar.
Insert end of the collar through the buckle. Adjust the collar around the dog or cat _s neck without tightening it too tight (as a guide, it should be possible to insert two fingers between the collar and the neck).
Pull excess collar through the loop(s) and cut off any excess length extending 1 inch (2 cm) beyond the loop(s).
Seresto comes with three optional reflector clips that can be attached to the collar for additional visibility at night. The reflector clips should be evenly distributed on the non-overlapping part of the collar.
**************************
For this product and for the best prices on all of your pet food and supply needs The Hungry Puppy Pet Food & Supplies is your one-stop shop. Whether your animal barks or chirps, neighs or moos, meows or squawks, we have it all. Shop at the convenience of your home or on the go. In a rush, you can save 5% by placing a curbside pickup order and we will make sure you are here and gone in a flash. Live in NJ? The Hungry Puppy delivers FREE to your front door every week.

Live outside of our Central NJ Local Delivery area? Don't worry, we now ship right to your front door!

Either Way The Hungry Puppy offers online shopping, with Curbside Pickup, Local Delivery or Nationwide Shipping at a place you can trust for the highest quality pet products at the lowest possible prices!