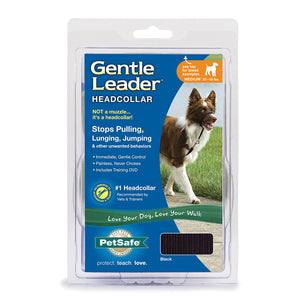 Image may not reflect actual packaging.
Premier
Premier Gentle Leader Medium Black
Item PLU:
16088
Regular price
$26.99
$0.00
---
Share this Product
The Hungry Puppy is a proud carrier of Premier Gentle Leader Medium Black, an answer to the call of stress-free walking! This state of the art headcollar is proven to stop pulling, lunging, jumping, and other unwanted behavior and replace your stressful walk with immediate, gentle control.
If you'd like to stop stressing and start walking,  The Hungry Puppy offers Premier Gentle Leader Medium Black for the lowest prices. We also deliver free to select areas of NJ through The Hungry Puppy to select areas and provide free nationwide shipping on select products and orders through NJ Pet Supply!
More than 5 million dog owners have found the secret to stress-free walks! The Gentle Leader Headcollar stops pulling, lunging, jumping, and other unwanted behaviors with immediate, gentle control. Unlike traditional collars, the Gentle Leader places pressure on the back of the neck instead of the front of the delicate throat, preventing choking and coughing. The nose loop allows you to direct your dog _s head in the direction you want to go. Most dogs quickly learn to stop pulling and start paying attention to you during walks.
Enjoy safer, stress-free walks with the Gentle Leader® Headcollar
Imagine if each time your dog tugged on the leash, it turned him around. He just might find that he's not getting anywhere. That's the whole idea. The Gentle Leader headcollar fits securely over your dog's nose. The nose loop redirects his head towards you when he pulls forward, preventing pulling and giving you his full attention.
Reduces excessive leash pulling and other unwanted behaviors like barking, lunging, and jumping
Perfect for training dogs to heel
Provides immediate gentle control
Collar sits high on dog's neck without putting pressure on the throat
Comfortable neoprene padded nose loop
Headcollar gently redirects dog's head and body
Safe, Effective, & Recommended by Veterinarians and Trainers
When your dog pulls, the Gentle Leader gently moves his head and body back towards you. This effectively refocuses his attention back to you and off the distraction. Unlike a muzzle, the nose loop gently moves your dog's head when he pulls, while still allowing him to pant and bark. The collar sits high on your dog's neck without putting pressure on the throat.

The Gentle Leader is perfect for keeping your dog under control for everything from daily walks to vet visits. And you can easily train your dog to heel using the Gentle Leader plus your preferred training method. Once your dog has learned to let you lead walks, you may only need to use the Gentle Leader occasionally.
Just the Right Size for Your Dog
Size
Pet Size

Sample Breeds


Petite




Chihuahua, teacup and toy breeds, puppies (8 weeks or older)




Small




Beagle, Sheltie, Shih Tzu




 

Medium




Border Collie, Bulldog, Pug




Large




Boxer, German Shepherd, Labrador Retriever




Extra Large
Great Dane, Newfoundland, Saint Bernard
**************************
For this product and for the best prices on all of your pet food and supply needs The Hungry Puppy Pet Food & Supplies is your one-stop shop. Whether your animal barks or chirps, neighs or moos, meows or squawks, we have it all. Shop at the convenience of your home or on the go. In a rush, you can save 5% by placing a curbside pickup order and we will make sure you are here and gone in a flash. Live in NJ? The Hungry Puppy delivers FREE to your front door every week.

Live outside of our Central NJ Local Delivery area? Don't worry, we now ship right to your front door!

Either Way The Hungry Puppy offers online shopping, with Curbside Pickup, Local Delivery or Nationwide Shipping at a place you can trust for the highest quality pet products at the lowest possible prices!