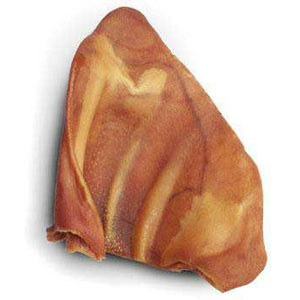 Image may not reflect actual packaging.
Pig Ears
Pig Ears
Item PLU:
3368
Regular price
$1.79
$1.79
---
Share this Product
Delicious and Nutritious Pig Ears: The Perfect Treat for Your Beloved Pooch!
Are you searching for a natural and tasty treat that will make your furry friend's tail wag with excitement? Look no further than pig ears! Renowned for their irresistible taste, pig ears are an excellent choice to reward your dog while promoting their dental health and overall well-being.
Pig ears are a healthy, single-ingredient treat, made from 100% natural pork. Packed with protein, vitamins, and minerals, they offer a range of benefits for your dog's health. Not only will they satisfy their hearty appetite, but they also provide essential nutrients that contribute to muscle development and vitality.
Cleaning your dog's teeth has never been easier! Pig ears provide a satisfying chewing experience for dogs, which can help remove plaque and tartar buildup. By promoting proper dental hygiene, these treats assist in preventing periodontal diseases, gum inflammation, and bad breath. Say goodbye to expensive dental cleaning treatments and hello to healthier, happier teeth!
The joy of watching your dog blissfully chew away on a pig ear is a reward in itself. Their strong jaws and satisfaction with a delicious treat will keep them engaged and entertained. Moreover, pigs' ears are low in fat, making them a weight-conscious option for dogs on a diet or those prone to weight gain. Treat your furry friend without guilt and help them maintain a healthy weight at the same time!
Choose pig ears that are sourced from reputable and trusted suppliers to ensure the highest quality for your pet. Our pig ears are processed with care, ensuring they are free from additives, artificial flavors, and preservatives. You can have peace of mind knowing your dog is receiving a safe and natural treat, made with love.
The Benefits of Pig Ears as a Delicious and Nutritious Treat for Dogs

When it comes to spoiling our furry companions, finding the perfect treat for them can be a challenging task. We all want to reward our dogs with something delicious, healthy, and enjoyable. Look no further—pig ears are a great choice! These tasty treats not only satisfy your dog's cravings but also offer numerous benefits for their overall health and well-being. 
Natural and Nutritious Ingredients:
Pig ears are made from 100% natural pork. They are a single-ingredient treat, rich in protein, vitamins, and minerals. Not only do they energize your dog with a boost of high-quality protein, but they also provide essential nutrients for muscle development and vitality.
Dental Health:
Chewing on pig ears can be a great way to support your dog's dental health. The act of gnawing helps remove plaque and tartar buildup, promoting cleaner and healthier teeth. By reducing the risk of gum inflammation, periodontal diseases, and bad breath, pig ears contribute to your dog's overall oral hygiene. Regular chewing can even prevent costly dental cleanings down the line.
Weight Management:
If your furry friend needs to watch their weight, pig ears are a fantastic treat option. They are low in fat, allowing your dog to enjoy a delicious snack without worrying about unnecessary weight gain. Pig ears provide a fulfilling chewing experience, keeping your dog content and entertained while maintaining a healthy weight.
Entertainment and Engagement:
Watching your dog's joy as they chew on a pig ear is a delight in itself. Their strong jaws and enjoyment with the treat keep them engaged, providing mental stimulation and emotional satisfaction. These treats are perfect for keeping your dog occupied during quiet times or as a reward during training sessions.
When it comes to selecting the ideal treat for your dog, pig ears tick all the boxes. With their irresistible taste, natural ingredients, dental health benefits, and weight-conscious nature, they are a win-win for both you and your furry friend. Treat your beloved pooch with respect, care, and love by choosing pig ears as their go-to snack. Watch their tail wag with happiness, knowing you are providing them with not just tasty, but a healthy treat.
Pig ears typically consist of one ingredient: pig ears. When sourced from reputable suppliers, pig ears are generally processed and dried to ensure their safety and longevity as a treat for dogs. They do not typically contain any additives, artificial flavors, preservatives, or additional ingredients. This makes pig ears a natural and wholesome treat option for your furry friend. However, it's always recommended to check the specific packaging or consult the manufacturer to ensure that no additional ingredients or processing methods have been used.
Roasted and basted in natural pork juices for flavor, with no preservatives or artificial colors or flavors. Satisfies the dog's urge to chew. Removes plaque and prevents tartar buildup to support good dental health.
**************************
For this product and for the best prices on all of your pet food and supply needs The Hungry Puppy Pet Food & Supplies is your one-stop shop. Whether your animal barks or chirps, neighs or moos, meows or squawks, we have it all. Shop at the convenience of your home or on the go. In a rush, you can save 5% by placing a curbside pickup order and we will make sure you are here and gone in a flash. Live in NJ? The Hungry Puppy delivers FREE to your front door every week.

Live outside of our Central NJ Local Delivery area? Don't worry, we now ship right to your front door!

Either Way The Hungry Puppy offers online shopping, with Curbside Pickup, Local Delivery or Nationwide Shipping at a place you can trust for the highest quality pet products at the lowest possible prices!