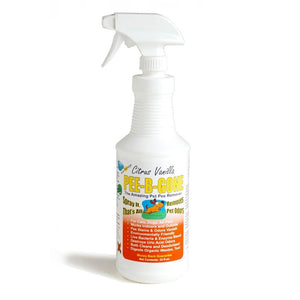 Image may not reflect actual packaging.
Alzoo
Alzoo Citrus Vanilla Pee-B-Gone
Item PLU:
29468
Regular price
$15.98
$0.00
---
Share this Product
Alzoo Citrus Vanilla Pee-B-Gone is a citrus and vanilla scented pet urine and odor remover. It is designed to quickly and effectively eliminate pet odors, leaving your home smelling fresh and clean. It is safe for use on carpets, rugs, upholstery, and other fabrics, and can be used on pet beds, litter boxes, and other pet areas. It is non-toxic, biodegradable, and non-staining, and contains natural enzymes and essential oils that work to breakdown and eliminate urine and odor molecules.
Benefits of Alzoo Citrus Vanilla Pee-B-Gone 
Natural ingredients: Alzoo Citrus Vanilla Pee-B-Gone is made with natural and non-toxic ingredients such as lemon and orange oil, and vanilla extract, which are safe and effective at removing pet urine and other odors. 

Easy to use: This product is easy to use and can be sprayed directly onto surfaces or fabric to eliminate pet odors and stains quickly and effectively. 

Safe for pets and humans: Alzoo Citrus Vanilla Pee-B-Gone is safe for all pets and humans, so you don't have to worry about any harm coming to your family or your four-legged friends. 

Long-lasting results: The product is designed to provide long-lasting results, so you don't have to worry about the smell coming back. 

Environmentally friendly: Alzoo Citrus Vanilla Pee-B-Gone is biodegradable and non-toxic, making it an environmentally-friendly choice.
Gets rid of your toughest pet stains. Very easy: no sponges, no scrubbing, no rinsing: just spray and walk away! Cleans and deodorizes in just 30 minutes. Works on carper, wood, stone, and most surfaces. Earth friendly formula: no alcohol, no detergents, no harsh chemicals.
Buy Pee-B-Gone Citrus Vanilla from TheHungryPuppy.com with Free* Local NJ Delivery to your front door at better prices than other online retailers. Not only do we carry Pee-B-Gone Citrus Vanilla but find other Great Products, Dog, Cat, Small Animal, Livestock, Farm Animal Food and Supplies.
**************************
For this product and for the best prices on all of your pet food and supply needs The Hungry Puppy Pet Food & Supplies is your one-stop shop. Whether your animal barks or chirps, neighs or moos, meows or squawks, we have it all. Shop at the convenience of your home or on the go. In a rush, you can save 5% by placing a curbside pickup order and we will make sure you are here and gone in a flash. Live in NJ? The Hungry Puppy delivers FREE to your front door every week.

Live outside of our Central NJ Local Delivery area? Don't worry, we now ship right to your front door!

Either Way The Hungry Puppy offers online shopping, with Curbside Pickup, Local Delivery or Nationwide Shipping at a place you can trust for the highest quality pet products at the lowest possible prices!