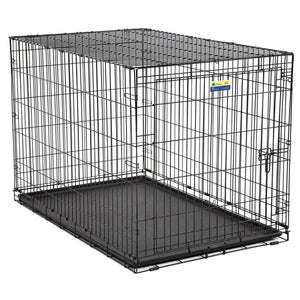 Image may not reflect actual packaging.
Midwest
Midwest Contour Crate 836 36" (Does not ship - Local delivery only)
Item PLU:
38630
Regular price
$75.99
Sale price
$76.99
---
Share this Product
The Midwest Contour Crate 836 36" is the perfect solution for your pet's safety and security for crate training. This crate is designed with your pet's comfort and safety in mind. The crate is made of durable materials and features a secure locking system to keep your pet safe and secure. The crate also features a removable divider panel to help you customize the size of the crate for your pet. The crate also has a convenient carrying handle for easy transport. The crate is designed to fit most standard vehicles and is easy to assemble. This crate is perfect for keeping your pet safe and secure while traveling or at home.

1. Durable construction: The Midwest Contour Crate 836 36" is made from heavy-duty plastic and metal, making it strong and durable enough to withstand the wear and tear of everyday use.

2. Easy to clean: The crate is easy to clean and maintain, making it ideal for busy households.

3. Spacious design: The crate features a spacious design that provides plenty of room for your pet to move around and relax.

4. Secure latch: The secure latch ensures that your pet is safe and secure inside the crate.

5. Ventilation: The crate features multiple air vents to ensure your pet has plenty of fresh air.

6. Easy to transport: The crate is lightweight and easy to transport, making it ideal for trips to the vet or other places.

7. Local delivery: The crate is only available for local delivery, making it convenient and easy to get.
Buy Midwest Contour Crate 836 36" from TheHungryPuppy.com with Free* Local NJ Delivery to your front door at better prices than other online retailers. Not only do we carry Midwest Contour Crate 836 36" but find other Great Products, Dog, Cat, Small Animal, Livestock, Farm Animal Food and Supplies.
**************************
For this product and for the best prices on all of your pet food and supply needs The Hungry Puppy Pet Food & Supplies is your one-stop shop. Whether your animal barks or chirps, neighs or moos, meows or squawks, we have it all. Shop at the convenience of your home or on the go. In a rush, you can save 5% by placing a curbside pickup order and we will make sure you are here and gone in a flash. Live in NJ? The Hungry Puppy delivers FREE to your front door every week.

Live outside of our Central NJ Local Delivery area? Don't worry, we now ship right to your front door!

Either Way The Hungry Puppy offers online shopping, with Curbside Pickup, Local Delivery or Nationwide Shipping at a place you can trust for the highest quality pet products at the lowest possible prices!