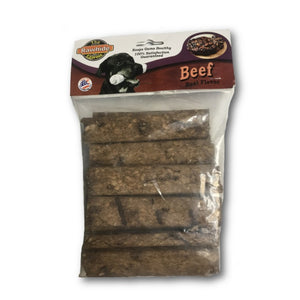 Image may not reflect actual packaging.
Lennox
Lennox Rawhide BBQ Ribs
Item PLU:
43879
Regular price
$4.79
$0.00
---
Share this Product
If you're looking for a delicious and easy snack for your pet look no further than Lennox Rawhide BBQ Ribs dog chews! These ribs have a unique and flavorful taste. The ribs are then finished off with a sweet and tangy BBQ sauce that will have your pup's mouth watering.

The best part about these ribs is that they're incredibly tasty. All you need to do is place the ribs in front of your dog and they will be engaged in a savory snack for quite some time. Once they're done, you can rest knowing you treated your furry friend to a delightful and delicious delicacy.

The flavor of these ribs is truly amazing for your canine companion. 

These ribs are perfect for any occasion or reward for your dog, whether you're treating your pup's good behavior or giving them a treat to keep them out of trouble, They're sure to be the perfect choice for your dog. So, if you're looking for a delicious snack for your dog give Lennox Rawhide BBQ Ribs a try!

Lennox Rawhide BBQ Ribs are the perfect way to offer delicious treat for your pup. They will have your canine's mouth watering. The ribs are also low in fat and calories, making them a healthier option for your pup. Let your dog enjoy the delicious taste of Lennox Rawhide BBQ Ribs today!

1. Delicious Taste: Lennox Rawhide BBQ Ribs are made with a unique blend of spices and seasonings that give them a delicious, smoky flavor.

2. High Quality: Lennox Rawhide BBQ Ribs are made with only the highest quality ingredients, ensuring that your pup get the best tasting treat every time.

3. Easy to Prepare: Lennox Rawhide BBQ Ribs are easy to offer as a savory snack for your pet.

4. Versatile: Lennox Rawhide BBQ Ribs can be used for a variety of reasons, for a tasty anytime treat, for a reward or for keeping your pup occupied and busy.

5. Healthy: Lennox Rawhide BBQ Ribs are a healthy choice, as they are low in fat and calories and high in protein.
The Lennox Express
BBQ Ribs
Munchie Rawhide Dog Chews
Real Beef Flavor
**************************
For this product and for the best prices on all of your pet food and supply needs The Hungry Puppy Pet Food & Supplies is your one-stop shop. Whether your animal barks or chirps, neighs or moos, meows or squawks, we have it all. Shop at the convenience of your home or on the go. In a rush, you can save 5% by placing a curbside pickup order and we will make sure you are here and gone in a flash. Live in NJ? The Hungry Puppy delivers FREE to your front door every week.

Live outside of our Central NJ Local Delivery area? Don't worry, we now ship right to your front door!

Either Way The Hungry Puppy offers online shopping, with Curbside Pickup, Local Delivery or Nationwide Shipping at a place you can trust for the highest quality pet products at the lowest possible prices!