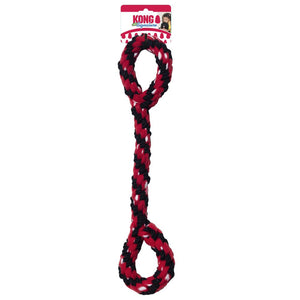 Image may not reflect actual packaging.
KONG
KONG Signature Rope Double Tug Dog Toy
Item PLU:
45579
Regular price
$18.99
$0.00
---
Share this Product
The KONG Signature Rope Double Tug Dog Toy is a double-layered tug toy designed to provide hours of interactive play for dogs and their owners. The rope is made of durable nylon and is double-braided for added strength. The toy includes two hand-held handles for tugging and pulling, and a built-in squeaker for added fun. The toy is designed to withstand chewing and tugging, and is perfect for interactive play. The toy is available in a variety of colors and sizes, making it suitable for all dog sizes and breeds.
The KONG Signature Rope Double Tug Dog Toy is an interactive toy that provides hours of fun and exercise for both you and your pup. The toy features two long, durable ropes with a knot in the center, giving your pup a place to pull and tug. The ropes are made of tough cotton for long-lasting durability and strength. The rope also features a handle on each end, making it easy for you to join in on the fun. The bright colors make it easy to spot if your pup runs off with it. Plus, the rope can be used to play a game of tug-of-war, fetch, or to help your pup practice their obedience training. With the KONG Signature Rope Double Tug Dog Toy, you and your pup can have hours of fun!
The KONG Signature Rope Double Tug Dog Toy is a durable, interactive toy perfect for multiple pet households. This toy is designed with two handles and a long, tough rope for tugging and fetching. The rope is made of a heavy-duty polyester material that is strong enough to withstand pulling and chewing from your pets. The rope is also designed to help reduce bad breath, as the fibers help to promote healthy oral hygiene. The two handles feature a unique grip that helps to increase grip strength and make tugging more comfortable. This toy is great for interactive play, and is sure to keep your pets entertained for hours.
Durable: The KONG Signature Rope Double Tug Dog Toy is designed to be durable, so it can stand up to vigorous play without tearing or breaking. 

Interactive: This toy encourages interactive playtime between you and your pup, allowing you to bond while they get their energy out. 

Great for tug-of-war: This toy is perfect for a game of tug-of-war, providing a great way to strengthen the bond between you and your pup. 

Teeth-cleaning: The rope material helps to keep your pup's teeth clean as they chew and play with the toy. 

Safety: The KONG Signature Rope Double Tug Dog Toy is made from safe, non-toxic materials, so you can be sure your pup is playing with a safe toy.
Braided cotton and fleece rope for stretches of fun
Double ring design, ideal for interactive playtime
Durable material for long-lasting tugging
KONG Signature Double Tug Rope doubles the fun with a unique braid of cotton and fleece that provides an uncompromised stretchy delight that is gentler on a dog's mouth. The durable material ensures that natural chewing behavior is rewarded again and again with the added benefit of helping clean teeth. The double rings multiply interactive playtime by making games of instinctual tugging even more engaging.
**************************
For this product and for the best prices on all of your pet food and supply needs The Hungry Puppy Pet Food & Supplies is your one-stop shop. Whether your animal barks or chirps, neighs or moos, meows or squawks, we have it all. Shop at the convenience of your home or on the go. In a rush, you can save 5% by placing a curbside pickup order and we will make sure you are here and gone in a flash. Live in NJ? The Hungry Puppy delivers FREE to your front door every week.

Live outside of our Central NJ Local Delivery area? Don't worry, we now ship right to your front door!

Either Way The Hungry Puppy offers online shopping, with Curbside Pickup, Local Delivery or Nationwide Shipping at a place you can trust for the highest quality pet products at the lowest possible prices!