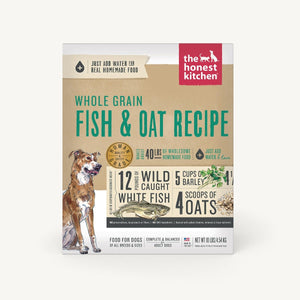 Image may not reflect actual packaging.
The Honest Kitchen
Honest Kitchen Whole Grain Fish Dehydrated Dog Food
Item PLU:
46279
Add to cart for price!
---
Share this Product
YOU WILL NOT BE CHARGED FOR SPECIAL ORDER ITEMS - SPECIAL ORDER ITEMS WILL BE BILLED SEPERATELY.
DEHYDRATED - WHOLE GRAIN FISH & OAT RECIPE
Honest Kitchen Whole Grain Fish Dehydrated Dog Food is a high quality, well-balanced recipe that provides a whole range of nutritional ingredients to support your dog's health. Packed with wild-caught white fish, organic oats, organic barley, organic flaxseed, and an assortment of fruits and vegetables such as peas, bananas, and coconuts, this meal offers a wide range of essential nutrients. 
The dehydrated formula retains much of the natural vitamins, minerals and phytonutrients found in the raw ingredients, ensuring your dog gets a nutrient-dense meal. Plus, it's easier on sensitive stomachs and is suitable for adult and senior dogs of all breeds and sizes. 
Honest Kitchen only uses ingredients that are non-GMO, without any by-products or preservatives, so you can trust you're giving your dog the best. This dog food follows the company's "Human Grade" standard, promising pet food that is made to the same quality and safety standards as human food. 
To prepare, simply add water to rehydrate the food. Adjust the amount of water and food to achieve your dog's desired consistency and allow the food to hydrate for a few minutes before serving. This 10 lb box makes approximately 40 lbs of fresh food.
One of the main advantages of Honest Kitchen Whole Grain Fish Dehydrated Dog Food is that it's grain-inclusive. Many dog foods in the market exclude grains, but grains are a great source of energy, fiber, and other important minerals. Organic oats and barley are incorporated into this recipe and provide heart-healthy fiber, assisting in digestion and helping to manage your dog's weight. 
Apart from that, wild-caught white fish is the first ingredient in this recipe, providing essential amino acids and important Omega fatty acids necessary for skin and coat health. White fish is a quality source of highly digestible protein, and it's less likely to trigger allergic reactions. 
The fruits and vegetables in the mix are loaded with antioxidants that boost immune health and stave off diseases. Organic coconuts are an excellent source of dietary fiber and healthy oils, while bananas offer potassium and vitamins. 

In terms of sustainability and ethical sourcing, Honest Kitchen ensures their fish are caught from the wild and not farmed. This aids in limiting exposure to antibiotics and hormones often used in farming. 
The Honest Kitchen is setting new food safety standards for the pet food industry. Their food is made in kitchens that also make human food – not in a pet food plant. All their products undergo rigorous testing to ensure they meet their strict quality standards.
Overall, The Honest Kitchen Whole Grain Fish Dehydrated Dog Food does not just focus on the taste but also aims to cater to the nutritional needs of your furry friend. With its premium quality ingredients, it ensures that your dog is eating a balanced and wholesome diet, which can result in various health benefits, including improved digestion, healthier skin and coat, more energy, and better overall health.
Benefits of feeding include: 
Nutrient Rich: The Honest Kitchen Whole Grain Fish Dehydrated Dog Food is packed with high-quality protein from wild-caught white fish. Additionally, it contains an assortment of healthy fruits and vegetables like peas, bananas, and coconuts, which supply essential vitamins, minerals, and fiber.
Easy Digestion: Made with whole grains such as organic oats and barley, this dog food facilitates better digestion, making it suitable for dogs with sensitive stomachs.
Health Benefits: The diet is fortified with essential fatty acids that can contribute to healthier skin and shinier coats. The antioxidants from the fruits and vegetables can boost the immune system.
Hydration: As a dehydrated food, when mixed with water, it provides a meal that not only satiates the dog's appetite but also helps to maintain adequate hydration, especially essential for dogs who do not drink water frequently.
Human Grade Quality: The Honest Kitchen follows strict safety and quality standards. The ingredients used are human-grade ensuring that what your dog is consuming is safe and of the highest quality. 
Preservative-Free: This dog food is made without preservatives or harmful chemicals, making it a clean and wholesome choice for your dog. 
Easy to Prepare: All you need to do is add water and the food is ready to serve.
Eco-friendly: The brand uses wild-caught fish and avoids farmed fish to adhere to sustainable and ethical sourcing. The ingredients are non-GMO, further emphasizing their commitment to the environment. 
By feeding your pet Honest Kitchen Whole Grain Fish Dehydrated Dog Food, you ensure they receive well-rounded nutrition crucial for their growth, vitality and overall well-being.
When transitioning your pet to Honest Kitchen Whole Grain Fish Dehydrated Dog food, it's important to do it gradually to allow your dog's system to adjust to the new food. Here's a general guide on how to do it:
Day 1-3: Mix 25% of Honest Kitchen with 75% of your dog's current food. 
Day 4-6: Make it a 50/50 split of Honest Kitchen and the old food.
Day 7-9: Now your dog's meal should be consisting of 75% Honest Kitchen and 25% of the old food.
Day 10 onwards: Your dog's meal should now be 100% Honest Kitchen.
Remember to monitor your dog during this transition period. If your dog shows signs of upset stomach or other digestive issues, slow down the transition.
Also, ensure your pet is drinking plenty of water during this period as dehydrated food requires hydration before serving. Add warm water to the food and wait for 3 minutes before serving.
Every pet is unique, so this schedule may vary based on your dog's specific needs. Always consult your veterinarian for personalized guidance during dietary transitions.
The Honest Kitchen Whole Grain Fish Dehydrated Dog Food is created from wholesome, high-quality ingredients. These include:
Dehydrated white fish: Promotes lean muscle development and provides essential omega fatty acids for a healthy skin and coat. The white fish is wild-caught, ensuring the seafood is sustainably sourced.
Organic oats: Helps to make this recipe high fiber, good for bowel regularity and digestive health.
Organic barley: Is a whole grain that provides essential minerals and nutrients that support heart health.
Organic flaxseed: Provides essential fatty acids for a healthy skin and coat, and good for heart health.
Dehydrated potatoes: A healthy source of vitamins A, C, and B6, fiber, potassium, and magnesium.
Dehydrated cabbage: A great source of vitamins K and C, as well as antioxidants that are good for overall health.
Organic coconut: Packed with fiber and beneficial fats.
Bananas: A source of beneficial fiber, potassium, and vitamin C.
Spinach: A superfood that is rich in antioxidants, including Vitamin K, Vitamin A, and Vitamin C.
Other ingredients: Dehydrated apples, dehydrated pumpkin, dehydrated green beans, organic kelp, and minerals.
Vitamins and minerals: To ensure your dog is getting a balanced diet, The Honest Kitchen adds essential vitamins and minerals to their recipes.
This recipe does not contain any corn, wheat, soy, preservatives, or GMO ingredients. It's also free from by-products and fillers. Instead, each ingredient is carefully selected for its nutritional benefits, giving your dog a highly-digestible, whole food diet that supports all aspects of their health.
The guaranteed analysis of Honest Kitchen Whole Grain Fish Dehydrated Dog Food provides a snapshot of the nutrient profile of this diet. Here are the primary values:
Crude Protein (Min) - 24.0%

Crude Fat (Min) - 14.0%

Crude Fiber (Max) - 6.0%

Moisture (Max) - 8.0%
These values indicate the minimum percentage of essential nutrients: protein and fat, and the maximum percentage of fiber and moisture in the diet. 

Important note: Due to the nature of this diet being dehydrated, when rehydrated, these percentages may alter. Please consult the product packaging or the Honest Kitchen website for more detailed nutritional information including vitamin, mineral, and other nutrients content. 

Finally, as with all dog foods, it is important to introduce any new foods gradually and to continue to monitor your dog's weight and condition to ensure that the diet is meeting their needs. Always consult your vet if you have any questions or concerns about your pet's diet.
With no antibiotics, hormones, GMOs, corn, soy, rice, beet pulp, or wheat… you can rest assured there's absolutely nothing fishy about this fish. In fact, this whole grain dish that's perfect for adult dogs features wild-caught, Marine Stewardship Council certified white fish plus hearty oats—all dehydrated for prime nutrient retention and superior bio-availability and digestibility. Even dogs with the most sensitive of tummies will fall for this easy-to-digest food. And hey… we're not trying to fish for compliments or anything, but our Whole Grain Fish & Oat Recipe is 100% human grade—as always.
OUR PROMISE
100% Human Grade
Made in the USA
No corn, wheat, soy or GMO ingredients
All ingredients are processed in the USA in a human grade food processing facility. They are non genetically modified and free of any chemicals & preservatives. All meat is hormone and antibiotic free.
INGREDIENTS
Dehydrated white fish, organic barley, organic oats, dehydrated eggs, organic flaxseed, dehydrated potatoes, dehydrated carrots, dehydrated pumpkin, dried parsley, minerals [tricalcium phosphate, potassium chloride, choline chloride, zinc amino acid chelate, iron amino acid chelate, potassium iodide, copper amino acid chelate, sodium selenite], taurine, vitamins [vitamin E supplement, vitamin B12 supplement, thiamine mononitrate (vitamin B1), calcium pantothenate (vitamin B5), riboflavin (vitamin B2), vitamin D3 supplement]
NUTRITION INFO

Calories
391
% Protein
28
% Fat
9
% Fiber
5
% Moisture
8.5
**************************
For this product and for the best prices on all of your pet food and supply needs The Hungry Puppy Pet Food & Supplies is your one-stop shop. Whether your animal barks or chirps, neighs or moos, meows or squawks, we have it all. Shop at the convenience of your home or on the go. In a rush, you can save 5% by placing a curbside pickup order and we will make sure you are here and gone in a flash. Live in NJ? The Hungry Puppy delivers FREE to your front door every week.

Live outside of our Central NJ Local Delivery area? Don't worry, we now ship right to your front door!

Either Way The Hungry Puppy offers online shopping, with Curbside Pickup, Local Delivery or Nationwide Shipping at a place you can trust for the highest quality pet products at the lowest possible prices!