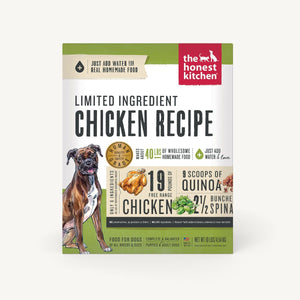 Image may not reflect actual packaging.
The Honest Kitchen
Honest Kitchen Grain Free Limited Ingredient Chicken Recipe Dehydrated Dog Food
Item PLU:
37537
Add to cart for price!
---
Share this Product
We all want the best for our pets, especially when it comes to their diet. High-quality, nutritious food not just ensures optimal health, but also ensures your furry friends are happy and lively. One standout product in the market for canines is the Honest Kitchen Grain Free Limited Ingredient Chicken Recipe Dehydrated Dog Food. 
This product is specifically designed for dogs with food sensitivities. The limited ingredient recipe – which features free-range chicken as a single protein source and is grain-free, makes it a fantastic option for dogs with grain allergies or poultry sensitivities. 
The wholesome ingredients in this dehydrated dog food are all human-grade to ensure your pet gets the very best. This recipe includes free-range chicken, sweet potatoes, organic flaxseed, parsley, and chard to create a delicious and healthy meal. The protein-rich, grain-free formulation helps promote lean muscle mass and overall pet health. 
The Honest Kitchen is a brand known for its transparency and dedication to quality. They use careful food preparation techniques in a human food facility for the highest possible food quality and food safety. Their cooking methods preserve the nutrients in the food, which allows your pet to receive the full benefits from every meal.
One standout feature of this product is its versatile use. You can serve it as a standalone meal, or mix it in with your dog's regular kibble to enhance its flavor and nutrient profile. Plus, its dehydrated state makes it perfect travel food and easy storage solution for pet parents. All you need to do is add water to rehydrate the food to splash out the unique flavors and aroma that your dog will find irresistible. 
Moreover, the Honest Kitchen Grain Free Limited Ingredient Chicken Recipe Dehydrated Dog Food is a good choice for those pet parents prioritizing sustainability. The brand guarantees that the free-range chicken used in their recipes is raised in the USA without the use of antibiotics or hormones.
The cruelty-free, delectable recipe does not incorporate fillers, by-products, preservatives, corn, wheat, soy or GMO ingredients. Also, the brand's dedication to minimal processing and additive-free recipes make this a safe option for dogs of all sizes and ages. 
In conclusion, the Honest Kitchen Grain Free Limited Ingredient Chicken Recipe Dehydrated Dog Food is a fantastic option for health-conscious pet parents who want the best for their furry companions. Whether your canine companion has food sensitivities, or you are simply searching for a high-quality, nutrient-rich food, this dehydrated dog food offers a compelling solution.
Remember, before making any major changes to your pet's diet, it's always a good idea to consult with your veterinarian, especially if your dog has specific dietary needs or health concerns.
Choosing a food for your dog shouldn't have to be a complicated process, and with the Honest Kitchen Grain Free Limited Ingredient Chicken Recipe Dehydrated Dog Food, it doesn't have to be. With its commitment to high-quality, nutritious ingredients and ethical sourcing, you can feel confident that you are providing your pet with a wholesome and delicious meal that they will love, and that will support their overall health and wellness.
This dog food offering from Honest Kitchen is one of the healthier options for your pet for various reasons. Firstly, it contains chicken as its principal ingredient - meaning it's high in protein, which can aid in maintaining muscle mass and a healthy metabolism. Secondly, it's grain-free, which can assist dogs with sensitive stomachs or allergies. 
Apart from chicken, it also includes sweet potatoes and organic flaxseed, both of which have health benefits, too. The former is packed with fiber and essential vitamins, promoting a healthy digestive system amongst other benefits. The latter adds up a good dose of omega-3 fatty acids, promoting a shiny coat and healthy skin.
Besides nutrition, the fact that it's dehydrated dog food is beneficial as it saves storage space and can also be used as a trustee travel companion. To serve, simply re-hydrate it with water, releasing the flavor and aroma bound to be loved by your dog.
Since this product uses human-grade ingredients and doesn't contain by-products or harmful preservatives means you're offering high-quality food to your pet, which echoes pet owners who respect animal welfare and are keen on their dog's overall health. 
Lastly, the Honest Kitchen Grain Free Limited Ingredient Chicken Recipe Dehydrated Dog Food is also great for eco-conscious pet owners. The Company guarantees that the free-range chicken used in their recipes is raised humanely in the USA without the use of antibiotics or hormones, contributing their bit to the environment. 
Just remember that any significant changes to the diet should always be done with consultation from your vet to ensure it meets your pet's specific needs.

Limited Ingredient Recipe: This grain-free diet is perfect for dogs with specific food sensitivities. It features free-range chicken as a single protein source and doesn't include common allergens like grains, corn, wheat, soy or gluten.
High-Quality Ingredients: The recipe includes only human-grade ingredients to ensure your pet receives the best nutrition. The ingredients like sweet potatoes and organic flaxseeds implement multiple health benefits.
Nutrient-Rich: This product contains higher levels of protein which promotes lean muscle growth, and a balanced mix of nutrients for maintaining overall health.
Versatile Use: This dehydrated food can be served alone or mixed with kibble. It's ideal for travel as you just need to add water to serve your pet a fresh, wholesome meal.
Made in the USA: The product is made in the USA, guarantees no Chinese ingredients and the free-range chicken used is raised in the USA without the use of antibiotics or hormones.
No Harmful Additives: This meal is free from any GMO's, preservatives, by-products or fillers, and provides your pet with a complete, balanced meal.
Convenient: As it's dehydrated, it's more compact and lighter than regular dog food, with a long shelf life, making it easy to store and handle.
Sustainable: The product is eco-friendly with its ethical sourcing of ingredients, ensuring you're not compromising your commitment to the environment.
Suitable for All Ages: This dog food is suitable for all kinds of dogs, from puppies to seniors, and is good for maintaining daily nutritional needs.
Promotes Better Skin and Coat: The balanced diet and added nutrients like Omega-3 fatty acids can improve your dog's skin and coat, keeping them healthy and shiny.
The Honest Kitchen Grain Free Limited Ingredient Chicken Recipe Dehydrated Dog Food includes the following ingredients:
- Free-range chicken, a primary source of protein that helps to maintain lean muscle mass and overall health.
- Organic flaxseed, a source of omega-3 and handful of essential amino acids.
- Sweet potatoes, that provides vitamins, minerals and fiber.
- Parsley, which contains vitamins A and C.
- Chard, a nutrient-dense green packed with vitamins A, K, and C.
- Minimal processing to ensure that your dog gets the nutritious benefits of each ingredient.
- 100% human-grade ingredients, which offer a higher quality and safety standard compared to typical pet food.
The food does not contain any grains, which makes it a good option for dogs with grain allergies. Moreover, it does not include any preservatives, GMO ingredients, by-product or harmful additives, ensuring a balanced diet for your pet. 

Additionally, it is versatile and can be served as a full meal or mixed with other types of food to enhance nutrient profile. It also maintains a long shelf-life due to its dehydrated nature which makes it travel friendly and easy to store.
Finally, all ingredients are sourced from reliable suppliers in the USA and free-range chicken raised without the use of antibiotics or hormones, ensuring that this dog food also supports sustainable farming practices.
Guaranteed Analysis
Crude Protein: 24.0% min
Crude Fat: 14.0% min
Crude Fiber: 4.0% max
Moisture: 8.0% max
It also includes other beneficial components such as:
- Carbohydrates: 38%
- Omega-6 Fatty Acids: 2.6%
- Omega-3 Fatty Acids: 0.3%
- Calcium: 1.20%
- Phosphorus: 1.0%
- Sodium: 0.13%
- Magnesium: 0.15%
These values represent a rounded average and may vary.
This product is formulated to meet the nutritional levels established by the AAFCO Dog Food Nutrient Profiles for all stages of life, including growth of large size dogs (70 lbs or more as an adult). Accounting for the above nutrients, this food provides a well-rounded and balanced diet for your dog.

Gradually transitioning your dog to Honest Kitchen Grain Free Limited Ingredient Chicken Recipe Dehydrated Dog Food is crucial to avoid stomach upset. Here is a suggested 7-day transition plan:
Day 1-2: Start by making up just 25% of your dog's meal with the new food, and 75% with the old food. Mix together well to blend the flavors.
Day 3-4: Increase the new food to 50%, so you're feeding half Honest Kitchen and half the old diet.
Day 5-6: Up the new food to 75% of the meal, with only a quarter of the old diet remaining.
Day 7: Feed entirely Honest Kitchen. 
Monitor your dog's poo during this time. If it appears loose, this could be due to the increased fiber in Honest Kitchen's recipe - don't worry, this should adjust within a few days. However, do note that if these symptoms persist you should consult with your vet.
Note: Preparation of Honest Kitchen food is easy - simply add water, mix, and serve. Make sure water has been removed if you're storing unused portions in the refrigerator, and make sure you use it up within 48 hours.
PRODUCT DESCRIPTION
This Limited Ingredient Recipe made with just six whole foods is perfect for dogs with food sensitivities, or those who just appreciate the simpler things in life. This recipe is made with uncompromising quality control standards using real, whole food ingredients that are gently dehydrated to maintain nutrients & taste. It's also 100% human grade, meaning we use the same whole foods you'd recognize in your own kitchen, and make this recipe in a human food facility for the highest quality and safety standards.
NUTRITIONAL HIGHLIGHTS: This limited ingredient recipe is a high calorie , low carbohydrate dog food and is made especially for dogs with food sensitivities or allergies.
SUITABLE FOR PUPPIES & ADULT DOGS: Complete & Balanced nutrition for adult dogs and puppies of all breeds and sizes, including large breed puppies, as well as adult mothers (gestation/lactation).
INGREDIENTS
Dehydrated chicken, organic quinoa, dehydrated sweet potatoes, dehydrated spinach, dried parsley, dried organic kelp, minerals [tricalcium phosphate, sodium chloride, potassium chloride, choline chloride, zinc amino acid chelate, iron amino acid chelate, potassium iodide, copper amino acid chelate, sodium selenite], taurine, vitamins [vitamin E supplement, vitamin B12 supplement, thiamine mononitrate (vitamin B1), calcium pantothenate (vitamin B5), riboflavin (vitamin B2), vitamin D3 supplement], fish oil (a natural source of DHA and EPA).
NUTRITION
| | |
| --- | --- |
| Calories | 516 |
| % Protein | 26 |
| % Fat | 16 |
| % Fiber | 6.3 |
| % Moisture | 7.3 |
**************************
For this product and for the best prices on all of your pet food and supply needs The Hungry Puppy Pet Food & Supplies is your one-stop shop. Whether your animal barks or chirps, neighs or moos, meows or squawks, we have it all. Shop at the convenience of your home or on the go. In a rush, you can save 5% by placing a curbside pickup order and we will make sure you are here and gone in a flash. Live in NJ? The Hungry Puppy delivers FREE to your front door every week.

Live outside of our Central NJ Local Delivery area? Don't worry, we now ship right to your front door!

Either Way The Hungry Puppy offers online shopping, with Curbside Pickup, Local Delivery or Nationwide Shipping at a place you can trust for the highest quality pet products at the lowest possible prices!