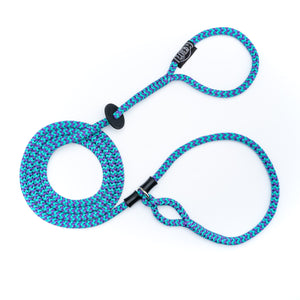 Image may not reflect actual packaging.
Harness Lead
Harness Lead 6' Vaporwave Purple/Turquoise
Item PLU:
45841
Regular price
$32.99
$0.00
---
Share this Product
LEASH AND HARNESS IN ONE.

REDUCES PULL: Gently tightens around barrel only. No tightening around neck. Utilizes a dog's own pressure against leash to encourage dog to slow their pace. USE WITH KINDNESS. DO NOT JERK, YANK OR CORRECT YOUR DOG. VERY IMPORTANT TO PROPERLY FIT. MUST ALIGN BLACK STOPS WITH FRONT LEG TO PREVENT TIGHTENING ON NECK.

ESCAPE RESISTANT: USE AS WALKING TOOL ONLY. DO NOT USE TO TIE DOG OUT DUE TO TIGHTENING ASPECT OF HARNESS. IT IS NOT CHEW PROOF. If dog attempts to back out of this harness, leash will tighten like a slip lead. Must be used according to directions.

ADJUSTS TO ANY SIZE OR BODY TYPE: Align the movable black stops to line up with front leg and it will fit any body perfectly.

SIZES: Small/Medium 14 lbs to 40; Medium/Large 40 lbs to 170 lbs

SKILLFULLY HANDCRAFTED IN U.S.A.

Made of double braided polyester, tensile strength 3,000 lbs.

Easy to use! Instructions printed on the INSIDE of the packaging.
10% of the sale of this leash is donated to Friends of Southern Ocean County Animal Shelter and American Black and Tan Coonhound Rescue.
SIZES:
Small/Medium best for 14 lbs to 40 lbs (2 ft shorter than the M/L)
*can scale down as small as 10 lbs, but functions best on 14 lbs and up
* APPROXIMATE Leash length from back to handle: 
14 to 20 lb dog is 6 ft; 20 to 30 lb dog 5 ft; 30 to 40 lb dog 4 ft.
*S/M can go up to 100 lb dog but length will be under 4 ft.
*3/8 diameter thickness
Medium/Large best for 40 lbs to 170 lbs (2 ft longer than the S/M)
*M/L will fit smaller 40lbs, but length will be over 6 ft
*APPROXIMATELeash length from back to handle: 
40 to 60 lb lb dog is 6 ft; 60 to 90 dog lb 5 ft; 100 to 120 lb dog 4ft; 130 to 170 dog 3 ft.
​*7/16 diameter thickness
**************************
For this product and for the best prices on all of your pet food and supply needs The Hungry Puppy Pet Food & Supplies is your one-stop shop. Whether your animal barks or chirps, neighs or moos, meows or squawks, we have it all. Shop at the convenience of your home or on the go. In a rush, you can save 5% by placing a curbside pickup order and we will make sure you are here and gone in a flash. Live in NJ? The Hungry Puppy delivers FREE to your front door every week.

Live outside of our Central NJ Local Delivery area? Don't worry, we now ship right to your front door!

Either Way The Hungry Puppy offers online shopping, with Curbside Pickup, Local Delivery or Nationwide Shipping at a place you can trust for the highest quality pet products at the lowest possible prices!