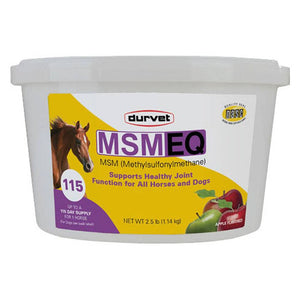 Image may not reflect actual packaging.
Durvet
Durvet MSM EQ
Item PLU:
43268
Regular price
$32.99
$0.00
---
Share this Product
Durvet MSM EQ is a dietary supplement designed for horses to support healthy joint function and flexibility. It is a bioavailable source of dietary sulfur that aids in the synthesis of collagen, an important component of joints, cartilage, skin, hair, and nails. 
MSM, or Methylsulfonylmethane, is highly beneficial for a horse's body and supports overall horse health. It helps reduce inflammation and pain, promoting quicker healing after a strenuous exercise or injury. It also delivers antioxidant effects to guard against harmful toxins and substances.
Key Features:

Supports healthy joint function and flexibility in horses.

Aids in the synthesis of collagen, which is essential for joint, cartilage, skin, hair, and nails.

Relieves inflammation and pain in horses, enabling faster recovery from exercise or injury.

Offers antioxidant effects to protect against harmful substances and toxins.

Easily absorbed in the body for maximum beneficial effects.
Feed Recommendation:
For both adult horses and yearlings, the usual serving size is a scant 1/3 cup and this product should not be fed to other animals apart from equines.

Durvet is a company that focuses on providing the highest standard in equine care products. They are known for their contributions to equine health and wellness by developing products that are driven by quality, innovation, and value. Durvet MSM EQ is one of the many products designed to improve the life and wellbeing of horses. 
Before adding any supplement to your horse's diet, it's important to consult with a veterinarian or a knowledgeable equine nutritionist. They can provide insight into the specific needs of your horse and help you craft a feeding plan that will provide the necessary nutrients and supplements for optimal health and performance.
Follow the feeding instructions provided on the package and adjust as necessary based on your horse's specific needs, their size, age, and level of activity. 
Durvet MSM EQ is not a substitute for a balanced diet and should be used as part of a complete feeding program. It should be stored in a cool, dry place out of direct sunlight. 
Always monitor your horse's condition and discontinue use if any adverse reactions occur. As with any product, individual results may vary. 
Note: These statements have not been evaluated by the Food and Drug Administration. This product is not intended to diagnose, treat, cure, or prevent any disease. Always consult with your veterinarian before using this or any other dietary supplement.
Some of the key benefits of Durvet MSM EQ are:
Supports Joint Health: MSM is known for its ability to support joint function and flexibility in horses. It aids in the synthesis of collagen, which is vital for the health of joints, cartilage, and connective tissues.
Reduces Inflammation and Pain: Durvet MSM EQ has anti-inflammatory properties, helping to reduce inflammation and alleviate pain caused by activities such as exercise or injury. This can promote faster recovery and improve overall comfort for your horse.
Enhances Healing: By reducing inflammation and supporting collagen synthesis, Durvet MSM EQ can contribute to faster healing after strenuous exercise or injury. It provides the necessary nutrients to aid in the repair and regeneration of tissues.
Antioxidant Protection: MSM acts as an antioxidant, helping to neutralize harmful substances and toxins in the body. This can support overall health and protect the horse's cells from damage caused by oxidative stress.
Bioavailable and Easily Absorbed: Durvet MSM EQ is highly bioavailable, meaning it can be easily absorbed and utilized by the horse's body. This ensures that the benefits of the supplement are maximized.
It's important to note that results may vary depending on the individual horse, their specific needs, and other factors such as diet and exercise routine. Consulting with a veterinarian or equine nutritionist is recommended to determine the appropriateness of using Durvet MSM EQ for your horse.
Durvet MSM EQ is specifically formulated for horses and is designed to support their joint health and overall wellbeing. It may not be suitable for other animals as their dietary and health needs differ significantly from horses.
While horses can greatly benefit from MSM supplementation, it is important to note that other animals, such as dogs, cats, and livestock, have their own unique nutritional requirements. It is always best to consult with a veterinarian or a knowledgeable animal health professional to determine the appropriate supplements or treatments for specific animals.
There may be other MSM supplements available on the market that are specifically formulated for different animal species. It is important to follow the product instructions and consult with a professional to ensure the right dosage and application for the specific animal in question.
Supports healthy joint function for all horses and dogs.
Supports healthy joint function
99% Pure
Apple flavored
Approved for use in horses and dogs
3 convenient sizes
ACTIVE INGREDIENTS: (per 10gm) Methylsulfonylmethane (MSM) 99%.....10,000 mgs
INACTIVE INGREDIENTS: Apple flavoring
Horses:
Loading: Administer 20 grams (2 scoops) per day for
1 week.
Maintenance: Administer 10 grams (1 scoop) per day.

Dogs:
Maintenance: Dogs up to 30 lbs: Administer 1/8
teaspoon per day. Dogs 31 to 60 lbs: Administer 1/4
teaspoon per day. Dogs 61 lbs & Over: Administer 1/2
teaspoon per day.
Loading: Administer double the dose for first
two weeks.
Enclosed scoop measures approximately 10 grams or 1 tablespoon.
**************************
For this product and for the best prices on all of your pet food and supply needs The Hungry Puppy Pet Food & Supplies is your one-stop shop. Whether your animal barks or chirps, neighs or moos, meows or squawks, we have it all. Shop at the convenience of your home or on the go. In a rush, you can save 5% by placing a curbside pickup order and we will make sure you are here and gone in a flash. Live in NJ? The Hungry Puppy delivers FREE to your front door every week.

Live outside of our Central NJ Local Delivery area? Don't worry, we now ship right to your front door!

Either Way The Hungry Puppy offers online shopping, with Curbside Pickup, Local Delivery or Nationwide Shipping at a place you can trust for the highest quality pet products at the lowest possible prices!