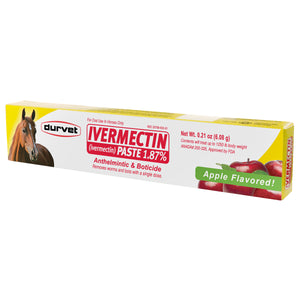 Image may not reflect actual packaging.
Durvet
Durvet Ivermectin Paste
Item PLU:
28487
Regular price
$10.99
$0.00
---
Share this Product
Product Description:
Durvet Ivermectin paste provides effective control of the following parasites in horses: large strongyles, small strongyles, pinworms, ascarids, hairworms, large-mouth stomach worms, bots, lungworms, intestinal threadworms, summer sores and dermatitis. It is easy to administer and each box contains one syringe, which is enough for a 1250 pound horse. This broad-spectrum equine dewormer has an apple flavor that horses seem to like, making dosing stress-free.
Product Features:

- Broad-spectrum control of a range of equine worms
- Formulated for horses
- Apple flavored to make administration easier
- Each syringe treats a 1250 lb horse
Administration:
Remove the syringe from the package. Hold the syringe with the capped end pointing to the left so that you can see the weight measurements and tick marks. Each weight marking on the syringe plunger delivers enough DURVET IVERMECTIN PASTE to treat 250 lb body weight.

Precautions:
Consult your veterinarian for assistance in the diagnosis, treatment, and control of parasitism. Do not use in horses intended for food. Keep this and all drugs out of the reach of children.
Ingredients:
Ivermectin 1.87%
Disclaimer: 
Always read, understand, and follow the label and use directions. Changes in parasite resistance, regional treatment practices, and individual animal health status can affect the performance of deworming products. 

Product Packaging:
Box contains one 0.21-ounce (6.08g) oral syringe.

For many of us, our horses are not just animals; they are partners in adventure, show companions, and part of our families. Their health and comfort are of utmost importance. One particular aspect of horse care that should never be overlooked is deworming. Equine parasites can cause severe health issues; hence a reliable solution is a necessity. Durvet Ivermectin Paste for horses is an essential for every horse owner. 
Broad-Spectrum Protection:
Durvet Ivermectin Paste is not just an ordinary equine dewormer. It effectively controls a wide variety of parasites including large strongyles, small strongyles, pinworms, ascarids, hairworms, large-mouth stomach worms, lungworms, intestinal threadworms, and bots. This comprehensive treatment ensures your horse is protected from these widespread equine parasites.
Easy & Tasty Administration: 
Persuading a horse to consume much-needed medicine could be a herculean task. However, this is not the case with Durvet Ivermectin Paste. The apple flavor is appealing to most horses, transforming the deworming process from a struggle to a treat. The tube design and plunger are specifically designed for easy, stress-free administration.
Proven Brand: 
Durvet is a name that's been trusted by veterinarians and horse owners for years. Their reputation is built on their continuous efforts to produce high-quality, effective treatments. This commitment to excellence is evident in Durvet Ivermectin Paste. When you choose Durvet, you choose proven quality.
Safe for Use:
Durvet Ivermectin Paste is safe for use in horses of all ages, from young and growing horses to seniors, as well as breeding mares and stallions. Its formula is mild yet potent against parasites, providing you with peace of mind. However, it should not be used in horses intended for food consumption. Always remember to keep this and all drugs out of the reach of children.
Great Value:
Each syringe of Durvet Ivermectin Paste is enough to treat a 1250 lb horse, offering a great value compared to many other products which may require multiple doses. The clear weight measurements on the syringe make accurate dosing effortless.
Durvet Ivermectin Paste provides a comprehensive, effective solution for equine parasites. Its broad-spectrum formula, ease of administration, proven brand quality, safety for all ages, and great value make it an exceptional choice for all horse owners. It is hands-down an essential product to include in your horse care routine for a happy and healthy horse.
Maintain Your Horse's Optimal Health with Durvet Ivermectin Paste
The key to a happy and healthy horse starts from within. With Durvet's Ivermectin Paste, you can ensure your horse's health is at its peak by effectively controlling a range of common equine parasites. Made with a potent formula, this dewormer provides proactive and comprehensive protection against ailments like large and small strongyles, pinworms, ascarids, hairworms, and more. 
Why Choose Durvet Ivermectin Paste for Your Horse?
Broad-Spectrum Protection: The Durvet Ivermectin Paste offers extensive defense from various harmful parasites. It deals with everything from bots to lungworms, thus safeguarding your horse's health and well-being.
Formulated for Horses: At Durvet, we believe in specific solutions. That's why the Ivermectin Paste is tailor-made for horses, focusing on their unique needs and physiology to deliver the best results.
Tasty Treat: Say goodbye to the struggle of administering dreary, unpalatable drugs. Our Ivermectin Paste is apple-flavored, transforming deworming from something your horse dreads to a treat they can't get enough of!
Easy Administration: Each syringe is equipped with clear weight measurements, facilitating easy and accurate dosing. This ensures you administer the correct dosage based on your horse's weight for optimal efficacy.
Trusted Quality: Our Ivermectin Paste embodies Durvet's trusted quality, offering efficacy, safety, and value. Our commitment to your horse's health is unmatched, making us a trusted choice for veterinarians and horse owners alike.
Give your horse the care it deserves by including Durvet Ivermectin Paste in your regular horse care routine. Shop now and discover the difference a reliable, high-quality dewormer can make for your equine companion's well-being!
Note: Always consult your veterinarian for assistance in the diagnosis, treatment, and control of parasitism. Keep out of reach of children.
Buy Durvet Ivermectin Paste from TheHungryPuppy.com with Free* Local NJ Delivery to your front door at better prices than other online retailers. Not only do we carry Durvet Ivermectin Paste but find other Great Products, Dog, Cat, Small Animal, Livestock, Farm Animal Food and Supplies.
**************************
For this product and for the best prices on all of your pet food and supply needs The Hungry Puppy Pet Food & Supplies is your one-stop shop. Whether your animal barks or chirps, neighs or moos, meows or squawks, we have it all. Shop at the convenience of your home or on the go. In a rush, you can save 5% by placing a curbside pickup order and we will make sure you are here and gone in a flash. Live in NJ? The Hungry Puppy delivers FREE to your front door every week.

Live outside of our Central NJ Local Delivery area? Don't worry, we now ship right to your front door!

Either Way The Hungry Puppy offers online shopping, with Curbside Pickup, Local Delivery or Nationwide Shipping at a place you can trust for the highest quality pet products at the lowest possible prices!