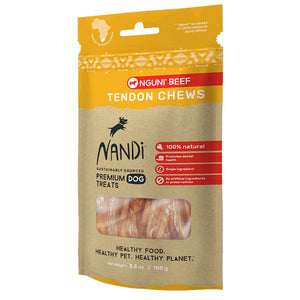 Image may not reflect actual packaging.
Nandi
Nandi Beef Tendon Chews Premium Dog Treats
Item PLU:
44377
Regular price
$9.99
$0.00
---
Share this Product
YOU WILL NOT BE CHARGED FOR SPECIAL ORDER ITEMS - SPECIAL ORDER ITEMS WILL BE BILLED SEPERATELY - Special Orders will take additional days for order to be complete.
Based on their list of ingredients, Nandi Beef Tendon Chews Premium Dog Treats appear to be a healthy treat option for dogs. They are made from 100% pure beef tendons, which are a good source of protein. Protein is an essential nutrient for dogs, helping to maintain healthy muscles and support overall growth and development.

Moreover, these treats are also free from artificial flavors, colors, and preservatives, meaning they don't contain any harmful chemicals that could affect your dog's health.

Chewing on these treats can also contribute to your dog's oral health, as it can help remove plaque and tartar from teeth.

However, although these chews can be part of a healthy diet, they should not replace a complete and balanced diet. Also, owners should monitor their dogs while they're enjoying these chews to prevent any potential choking hazard.

As always, it's best to consult with a veterinarian before introducing any new treats into your dog's diet.
.Nandi Beef Tendon Chews Premium Dog Treats are considered long-lasting. They are tough and durable, providing your dog with a long-lasting chewing experience. However, how long they last can vary depending on the dog's size and chewing habits. Some dogs may chew through them more quickly than others. Regardless, they are designed to offer prolonged satisfaction, keeping your dog entertained and helping to clean their teeth in the process.
Did you know that cattle tend to face either magnetic north or south when grazing or resting, regardless of the sun's position or the wind's direction? Why they do it remains a mystery. What's no mystery is that your dog will love our all-natural and absolutely delicious Nguni Beef Tendon Chews.
**************************
For this product and for the best prices on all of your pet food and supply needs The Hungry Puppy Pet Food & Supplies is your one-stop shop. Whether your animal barks or chirps, neighs or moos, meows or squawks, we have it all. Shop at the convenience of your home or on the go. In a rush, you can save 5% by placing a curbside pickup order and we will make sure you are here and gone in a flash. Live in NJ? The Hungry Puppy delivers FREE to your front door every week.

Live outside of our Central NJ Local Delivery area? Don't worry, we now ship right to your front door!

Either Way The Hungry Puppy offers online shopping, with Curbside Pickup, Local Delivery or Nationwide Shipping at a place you can trust for the highest quality pet products at the lowest possible prices!