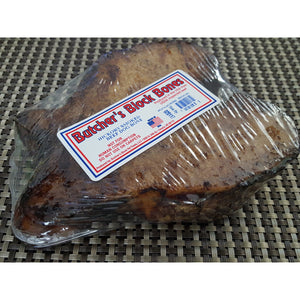 Image may not reflect actual packaging.
Butcher's Block
Butcher's Block Beef Knuckle Slices
Item PLU:
39565
Regular price
$2.49
$0.00
---
Share this Product
 *This is a special order item and may require additional days to get in stock*
Butcher's Block Beef Knuckle Slices are a type of dog treat that is made from beef knuckle bones. These bones are slow-roasted to create a crunchy texture that dogs love, and they are also packed with nutrients that can benefit your dog's overall health.
Beef knuckle bones are a natural source of glucosamine and chondroitin, which are both important nutrients for joint health in dogs. These bones also contain calcium, phosphorus, and other minerals that can help support strong bones and teeth.
It is important to note that while many dogs enjoy chewing on bones, not all bones are safe for them to eat. Cooked bones, for example, can splinter and cause intestinal blockages or other health problems. However, the slow-roasting process used to create Butcher's Block Beef Knuckle Slices helps to eliminate the risk of splintering and makes them a safe and enjoyable treat for most dogs.
As with any dog treat, it is important to supervise your dog while they are chewing on Butcher's Block Beef Knuckle Slices to ensure that they do not accidentally swallow large pieces or choke. It is also a good idea to consult with your veterinarian before introducing any new treats or supplements to your dog's diet.
Buy Butcher's Block Beef Knuckle Slices from TheHungryPuppy.com with Free* Local NJ Delivery to your front door at better prices than other online retailers. Not only do we carry Butcher's Block Beef Knuckle Slices but find other Great Products, Dog, Cat, Small Animal, Livestock, Farm Animal Food and Supplies.
**************************
For this product and for the best prices on all of your pet food and supply needs The Hungry Puppy Pet Food & Supplies is your one-stop shop. Whether your animal barks or chirps, neighs or moos, meows or squawks, we have it all. Shop at the convenience of your home or on the go. In a rush, you can save 5% by placing a curbside pickup order and we will make sure you are here and gone in a flash. Live in NJ? The Hungry Puppy delivers FREE to your front door every week.

Live outside of our Central NJ Local Delivery area? Don't worry, we now ship right to your front door!

Either Way The Hungry Puppy offers online shopping, with Curbside Pickup, Local Delivery or Nationwide Shipping at a place you can trust for the highest quality pet products at the lowest possible prices!