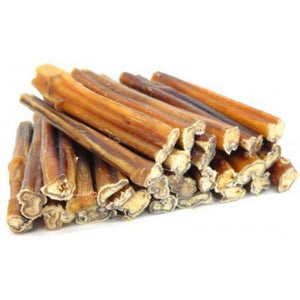 Image may not reflect actual packaging.
The Hungry Puppy
Bully Stick 6" 1-lb.
Item PLU:
43597
Regular price
$59.99
$0.00
---
Share this Product
A bully stick is a type of dog chew made from a dried tendon of a bull. They are usually sold in different sizes, including 6-inch lengths, and are a popular treat for dogs due to their long-lasting nature and flavor.
The 1-lb weight listed in your question likely refers to the amount of bully sticks included in the package. A 1-lb bag of 6-inch bully sticks would contain approximately 12-20 sticks, depending on the thickness of each individual stick.
It is important to note that while bully sticks can be a satisfying and enjoyable treat for dogs, they are also high in calories and should be given in moderation. Additionally, some dogs may have trouble digesting bully sticks or may have allergies to them, so it's important to monitor your dog's reaction when introducing any new treat.
The Hungry Puppy is a proud carrier of 6" Bully Sticks, safe and odorless treats that dogs of all breeds and ages can enjoy! These premium, all natural treats are made from grass fed cattle, and absolutely no hormones, fillers, additives, artificial preservatives or antibiotics are used. It's even grain free and processed in a USDA Human Grade Certified and Inspected Facility! As your canine chews away at these delicious, highly digestible, 100% beef treats, their dental health is being improved at the same time. For this reason, Bully Sticks are an ideal alternative to rawhides. It's the perfect way to train good behavior! Let your pooch in on these 6" flavorful sticks with The Hungry Puppy! The Hungry Puppy offers 6" Bully Sticks for the lowest prices. We also deliver free to select areas in Central NJ and provide free nationwide shipping on select products throughout the US through NJ Pet Supply!.
South American Sourced Bully Sticks - Assorted Brands

Guaranteed Analysis
CRUDE PROTEIN    75.0% min
CRUDE FAT        14.5% min
CRUDE FIBER    3.5% max
MOISTURE        3.5% max
100% DIGESTIBLE & SAFE Guaranteed to be fully digestible and guaranteed not to cause any side-effects. Bully Sticks are a natural, low-fat and protein-rich, one-ingredient dog chew treat, being 100% beef muscle without any additives or artificial ingredients. Our careful and natural preparation of the bully sticks effectively eliminates all bacteria and contaminates; making its _ consumption fully safe.

SUPPORTS HEALTHY TEETH & GUMS By ensuring its _ consistently perfect texture and thickness,  Bully sticks helps keep the dog _s teeth healthy and clean. Effectively removes tartar build-up, strengthens the gums, removes plaque and promotes an overall enhanced oral health.

PERFECT THICKNESS & LONG LASTING Each Bully Stick is hand selected and sorted to ensure its _ consistent thickness. Bully Sticks are never stretched, resulting in a longer lasting than regular bully sticks. Bully sticks are extremely safe and will never splinter. Keep your dog occupied for many hours, while chewing away on this savory beefy and flavorful dog treat!

NATURALLY ODOR FREE & FRESH Premium Bully Sticks are carefully prepared by boiling, roasting and smoking; then drying in a slow process. The multi-step process effectively locks-in the natural beef flavor resulting in an enhanced richness that dogs love. At the same time, the propriety process naturally eliminates all odors, without the use of any additives or chemicals. Stays fresh longer without any added preservatives.


**************************
For this product and for the best prices on all of your pet food and supply needs The Hungry Puppy Pet Food & Supplies is your one-stop shop. Whether your animal barks or chirps, neighs or moos, meows or squawks, we have it all. Shop at the convenience of your home or on the go. In a rush, you can save 5% by placing a curbside pickup order and we will make sure you are here and gone in a flash. Live in NJ? The Hungry Puppy delivers FREE to your front door every week.

Live outside of our Central NJ Local Delivery area? Don't worry, we now ship right to your front door!

Either Way The Hungry Puppy offers online shopping, with Curbside Pickup, Local Delivery or Nationwide Shipping at a place you can trust for the highest quality pet products at the lowest possible prices!