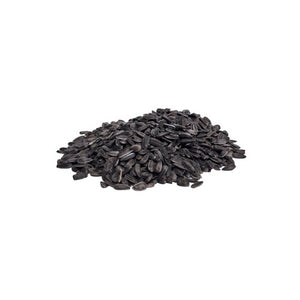 Image may not reflect actual packaging.
Black Oil
Black Oil Sunflower Bird Seed
Item PLU:
31148
Regular price
$18.99
$0.00
---
Share this Product
Black oil sunflower seeds (also known as black sunflower seeds) are a favorite among many bird species, including chickadees, cardinals, nuthatches, finches, jays, and doves. These seeds offer a high energy source of nutrition and can be used in a variety of feeders. Just be sure to choose a birdseed mix that is labeled "true black oil sunflower" to ensure you're getting the best quality seed.
Many birds will eat Black Oil Sunflower Bird Seed, including Cardinals, Chickadees, Finches, Jays, Nuthatches, Sparrows, Titmice, Towhees, Woodpeckers, and more.
Black oil sunflower seed is an excellent source of food for birds. It contains high amounts of fat and protein and is especially attractive to a variety of birds, including finches, chickadees, titmice, nuthatches, grosbeaks, and cardinals. Sunflower seed also provides many essential vitamins, minerals, and amino acids that are needed for a healthy diet. Additionally, the thin shell of the seed is easily cracked by many birds, making it a great choice for birds that lack the ability to crack larger seeds.
Benefits of black oil sunflower for birds 
High Nutritive Value: Black oil sunflower seeds have a high energy content, making them an excellent source of nutrition for wild birds. They contain high levels of protein and fat, and are a great source of essential fatty acids, which help keep birds healthy. 

Easy To Find: Black oil sunflower seeds are one of the most widely available bird seed types, making them easy to find in most stores. 

Attracts a Variety of Birds: Many bird species are attracted to black oil sunflower seeds, including chickadees, finches, cardinals, jays, sparrows, titmice, and nuthatches. 

Shelling: Black oil sunflower seeds are relatively easy for birds to shell, making them a great choice for birds that are less adept at cracking open hard shells. 

Cost: Black oil sunflower seeds are very affordable, making them an economical choice for bird-lovers on a budget.
**************************
For this product and for the best prices on all of your pet food and supply needs The Hungry Puppy Pet Food & Supplies is your one-stop shop. Whether your animal barks or chirps, neighs or moos, meows or squawks, we have it all. Shop at the convenience of your home or on the go. In a rush, you can save 5% by placing a curbside pickup order and we will make sure you are here and gone in a flash. Live in NJ? The Hungry Puppy delivers FREE to your front door every week.

Live outside of our Central NJ Local Delivery area? Don't worry, we now ship right to your front door!

Either Way The Hungry Puppy offers online shopping, with Curbside Pickup, Local Delivery or Nationwide Shipping at a place you can trust for the highest quality pet products at the lowest possible prices!