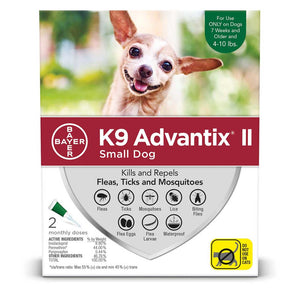 Image may not reflect actual packaging.
Advantix
Advantix II for Small Dogs 1-10 lb. 4 pack
Item PLU:
16593
Regular price
$64.99
$0.00
---
Share this Product
Advantix II for Small Dogs 1-10 lb. 4 pack is a flea, tick, and mosquito treatment for small dogs. This product contains imidacloprid and permethrin, which work together to kill adult fleas and ticks, as well as stop the development of flea eggs and larvae. It also kills mosquitoes before they can bite and transmit disease. The 4-pack is easy to apply and provides up to 4 weeks of protection for your pet.
Advantix II for small dogs 1-10 lb. 4 pack is a fast-acting and long-lasting flea and tick preventative medicine for dogs. It is designed to provide protection from fleas, ticks, and even more dangerous insects like mosquitoes, sand flies, and stable flies. Advantix II works quickly to kill fleas and ticks on contact, and keeps them away for up to four weeks. It also repels mosquitoes, sand flies, and stable flies, so you can rest assured that your pup is safe from these harmful pests. Advantix II is a great choice for small dogs because it's easy to apply and provides long-lasting protection. It is also water-resistant, meaning that it won't wash away during regular baths or swimming.
Repels and kills fleas, ticks, mosquitoes, and biting flies: Advantix II repels and kills fleas, ticks, mosquitoes, and biting flies. It also kills lice, and aids in the control of mites. 

Fast acting: Advantix II starts working within 12 hours of application and continues to protect your pet for up to four weeks. 

Waterproof: Advantix II is waterproof and won't wash off, even if your pet goes swimming or is exposed to rain. 

Easy to apply: Advantix II is easy to apply and comes in convenient, pre-measured doses. 

Safe for your pet: Advantix II is safe for your pet and won't cause skin irritation or other adverse effects.
K9 Advantix II is specifically formulated for dogs to provide protection against fleas, ticks, and mosquitoes.
It repels and kills icks, fleas, and mosquitoes, repels biting flies, and kills lice.
This broad spectrum protection is a once a month topical application for dogs and puppies.
Just apply once a month and feel good knowing that your dog is protected from parasites that could potentially transmit disease.
For use on dogs 7 weeks and older and that weigh 4 lb. or more.
Waterproof
For dogs 1-10 lb., 4 doses (4 month supply)
**************************
For this product and for the best prices on all of your pet food and supply needs The Hungry Puppy Pet Food & Supplies is your one-stop shop. Whether your animal barks or chirps, neighs or moos, meows or squawks, we have it all. Shop at the convenience of your home or on the go. In a rush, you can save 5% by placing a curbside pickup order and we will make sure you are here and gone in a flash. Live in NJ? The Hungry Puppy delivers FREE to your front door every week.

Live outside of our Central NJ Local Delivery area? Don't worry, we now ship right to your front door!

Either Way The Hungry Puppy offers online shopping, with Curbside Pickup, Local Delivery or Nationwide Shipping at a place you can trust for the highest quality pet products at the lowest possible prices!