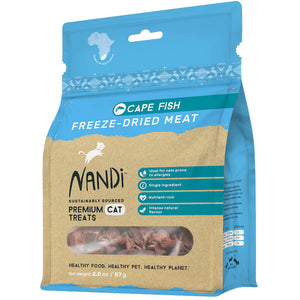 Image may not reflect actual packaging.
Nandi
Nandi Cape Fish Freeze-Dried Meat Premium Cat Treats
Item PLU:
44371
Regular price
$0.00
$0.00
---
Share this Product
YOU WILL NOT BE CHARGED FOR SPECIAL ORDER ITEMS - SPECIAL ORDER ITEMS WILL BE BILLED SEPERATELY - Special Orders will take additional days for order to be complete. 
Treat your feline friend to Nandi Cape Fish Freeze-Dried Meat Premium Cat Treats – the perfect indulgence for your precious pet. These unique treats are made with Cape Fish that's freeze-dried to lock in the natural flavors your cat will love. 
Cape Fish is a high-quality, sustainably sourced fish found in the pure and pristine waters off the South African coast. This endows the Nandi Cape Fish Freeze-Dried Meat Premium Cat Treats with a distinct taste and nutrient profile, packed with proteins, omegas, vitamins, and minerals to support your cat's overall health.
These treats are grain-free, keeping in line with your cat's natural dietary requirements. Their minimal ingredient list ensures your cat is only getting what it needs without any unnecessary additives, preservatives, artificial flavors, or colors. 
The treat is freeze-dried, a method that preserves nutrients without cooking, bringing out the savory flavor while maintaining nutritional integrity. This process also gives the treats a light, crunchy texture, providing your cat with a satisfying chewing experience.
Nandi Cape Fish Freeze-Dried Meat Premium Cat Treats are great for all cats, regardless of size or age. Feed these treats as a snack, training tool, or reward to make your purring pal feel special. Each package is resealable to keep the treats fresh and full of flavor. Whether your cat's an adventurous eater or has a more discerning palate, they're sure to appreciate the delectable taste of these premium treats. 
Beyond taste and health benefits, every purchase of Nandi Cape Fish Freeze-Dried Meat Premium Cat Treats contributes to the protection and sustainability of South Africa's marine life. Nandi is committed to responsible sourcing and handpicks each fish with diligence.
Make your pet's snack time an exciting culinary journey with Nandi Cape Fish Freeze-Dried Meat Premium Cat Treats – the gourmet treat loved by cats and praised by cat owners for its quality and taste. Give your fur baby a taste of this oceanic delight, and watch them enjoy every bite!
Beloved by felines. 
Key Benefits:
Nutrient-Rich: Cape Fish is high in protein, vitamins, and minerals like Omega fatty acids, which support overall cat health including skin, coat, immune system, vision, and brain function.

Grain-Free: Perfect for cats with sensitive stomachs or grain allergies.

Preservative-Free: These treats are freeze-dried to maintain their nutritional content without the need for artificial preservatives.

Supports Dental Health: The crunchy texture of these treats can help to clean your cat's teeth as they chew, removing plaque and tartar and promoting oral health.

Sustainably Sourced: The Cape Fish used in these treats is sourced from the pristine waters of South Africa, ensuring a high quality, sustainably-sourced ingredient.

Made for All Cats: These treats are suitable for cats of all sizes and life stages.

Flavorful Treat: The freeze-drying process intensifies the fish flavor, making these treats particularly tasty for cats.

Enhances Bonding: Using these treats as a reward or during playtime can strengthen the bond between you and your cat. 

Supports Conservation: Nandi is dedicated to preserving marine ecosystems. Your purchase supports these conservation efforts.  

Convenient Packaging: The resealable package preserves freshness and flavor, even after opening.
The Cape of Good Hope, at the tip of Africa, is a place where the Atlantic and Indian Oceans meet. As it happens, two fish meet in our Freeze-Dried Cape Fish treats – salmon and trout. We only source from sustainable and eco-friendly freshwater fish farms, helping to build better food systems and a healthy planet. You support these efforts every time you buy our treats for your cat.
**************************
For this product and for the best prices on all of your pet food and supply needs The Hungry Puppy Pet Food & Supplies is your one-stop shop. Whether your animal barks or chirps, neighs or moos, meows or squawks, we have it all. Shop at the convenience of your home or on the go. In a rush, you can save 5% by placing a curbside pickup order and we will make sure you are here and gone in a flash. Live in NJ? The Hungry Puppy delivers FREE to your front door every week.

Live outside of our Central NJ Local Delivery area? Don't worry, we now ship right to your front door!

Either Way The Hungry Puppy offers online shopping, with Curbside Pickup, Local Delivery or Nationwide Shipping at a place you can trust for the highest quality pet products at the lowest possible prices!