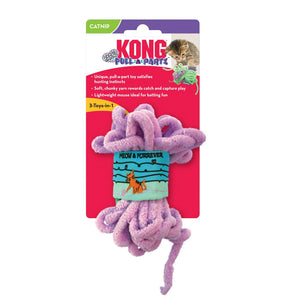 Image may not reflect actual packaging.
Kong
Kong Pull-A-Partz Yarn Cat Toy
Item PLU:
45577
Regular price
$4.99
$0.00
---
Share this Product
Kong Pull-A-Partz Yarn Cat Toy is a interactive toy designed for cats. It is made from durable plastic and comes with a colorful yarn ball. The yarn ball is attached to the toy with a spring and can be pulled, shaken and batted around. The toy also has a jingle bell inside for added fun and stimulation. The toy encourages cats to use their natural hunting and chasing instincts and provide them with hours of entertainment. The toy is safe and non-toxic and can help to keep cats physically and mentally active.
Kong Pull-A-Partz Yarn Cat Toy is a fun and interactive toy for cats of all ages. The toy consists of a thick yarn ball attached to a sturdy plastic handle. The handle is designed to be easy for cats to grasp and pull, allowing them to unravel the yarn and explore the toy. The yarn ball is made from soft, non-toxic materials and comes in a variety of colors. The toy also features a built-in squeaker, which can help to keep cats engaged and entertained. The Kong Pull-A-Partz Yarn Cat Toy is an ideal toy for cats to explore, play, and have fun with.
Kong Pull-A-Partz Yarn Cat Toy is an interactive cat toy that encourages cats to engage in playtime activities. The toy consists of a yarn ball with a pull-apart center. The yarn ball is brightly colored and made of durable material that is safe for cats. The pull-apart center contains a variety of small, colorful parts that cats can pull out and explore. The parts can be reassembled, or cats can explore them separately. The toy is designed to provide cats with mental stimulation and exercise while they play. It also encourages cats to interact with their caretakers, as it is a fun activity that can be done together.
Stimulation: The Kong Pull-A-Partz Yarn Cat Toy provides your cat with mental and physical stimulation. It encourages them to move around and explore, providing them with an outlet for their natural hunting instinct. 

Variety: The toy consists of multiple different parts that can be taken apart and put back together again. This provides your cat with more options and opportunities to explore and play. 

Bonding: The Kong Pull-A-Partz Yarn Cat Toy can also be used as a bonding tool between you and your cat. Playing together with the toy can help build a strong bond between the two of you. 

Durability: The material of the toy is made from durable and high-quality materials, meaning it can withstand even the most vigorous play sessions. 

Fun: The toy is designed to be fun and engaging for your cat, providing them with hours of entertainment.
Unique, pull-a-part toy satisfies hunting instincts
Soft, chunky yarn rewards catch and capture play
Lightweight mouse ideal for batting fun
KONG Pull A Partz Yarnz provides 3-toys-in-1 that invite kitties to dismantle a bundle of fun that satisfies hunting instincts. The ball of yarn won't unravel, but the fun will as cats get rewarded with catch and capture play. The interior, lightweight mouse continues the delight by igniting batting fun.   An exterior wrap adds to the mentally stimulating challenge with crackle sounds and KONG North American Premium Catnip extends the fun.
**************************
For this product and for the best prices on all of your pet food and supply needs The Hungry Puppy Pet Food & Supplies is your one-stop shop. Whether your animal barks or chirps, neighs or moos, meows or squawks, we have it all. Shop at the convenience of your home or on the go. In a rush, you can save 5% by placing a curbside pickup order and we will make sure you are here and gone in a flash. Live in NJ? The Hungry Puppy delivers FREE to your front door every week.

Live outside of our Central NJ Local Delivery area? Don't worry, we now ship right to your front door!

Either Way The Hungry Puppy offers online shopping, with Curbside Pickup, Local Delivery or Nationwide Shipping at a place you can trust for the highest quality pet products at the lowest possible prices!